We usually get a lot of questions on getting started with our turnkey product, with this article we go through the best possible setup for your Turnkey Reseller Hosting storefront.
The default storefront we provide should be used as a back-end website, unless you plan to manually refer your clients to the storefront. (Similar to a Freelancer or Website Designer)
This is the ideal setup that we recommend:
Main website: advertising your products. https://www.example.com
Backend website: managing and ordering portal for customers. https://store.example.com
It's the same method we use for Asura Hosting, where we link to our WHMCS from our front-facing website. Most companies do this with WHMCS as WHMCS is extremely hard to customize effectively, especially when it comes to SEO.
Backend Website
We provide the backend website with WHMCS. We basically provide a WHMCS storefront and Client Area that you can freely use for your customers. The storefront is the same configuration we use with WHMCS and is not customizable with a few exceptions like the Logo and Brand Name. The storefront comes with 3 essential services that you can offer to your Customers: Store/Ordering Portal, Client Area for Billing/Invoices and a Support Helpdesk.
To get your backend website ready, please Setup your storefronts domain and add products to it before creating your main website as illustrated below. Once you have it fully functional (Similar to demo.asurahosting.net) you may proceed with creating your main website.
Main Website
The main website is basically a website you create that advertises and displays your products in the best way possible. You then link-back to your backend storefront that we provide with our turnkey product.
Here's an example from our website, where we link to our "Starter" hosting product in WHMCS: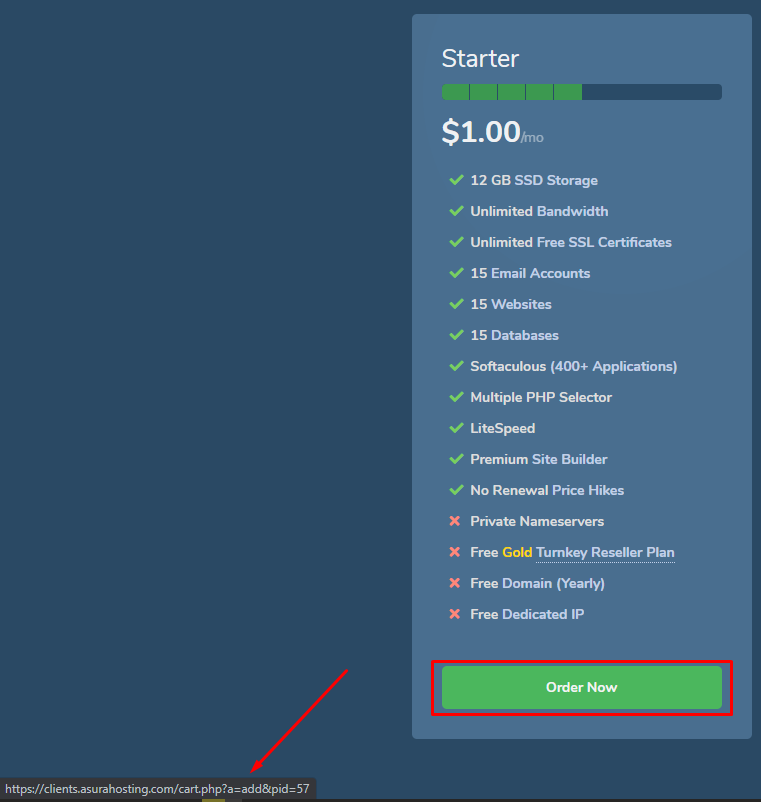 To find your store's product links, simply visit your storefronts product page, go to the section where your products are displayed and hover your mouse cursor over the "Order Now" button of the product you would like to link on your main website.
For example, our demo storefront product page link is https://demo.asurahosting.net/cart.php
If you were to hover your mouse over the "Starter" hosting plan's order now button, it will produce the link https://demo.asurahosting.net/cart.php?a=add&pid=82

The link you find in your backend storefront you should use for your "order" buttons on your Main Website.
We understand that most resellers do not have the full capability to create a website from scratch, which is why we recommend using ThemeForest. They have a bunch of excellent themes you can choose from for both WordPress or standard HTML: 
Here's web hosting themes for WordPress: https://themeforest.net/category/wordpress?term=web%20hosting
Here's web hosting themes for HTML: https://themeforest.net/category/site-templates?term=web%20hosting
Just make sure you do not choose a "WHMCS" theme as it will not work. Any other theme will work fine for your main-website.
Our turnkey product is an extremely powerful tool if used correctly, which is why we recommend this setup. Once you have your main website up and running with our backend WHMCS storefront we provide, your basically running a full-fledged web hosting company without the added headache of managing products and services in the backend.
FAQ
Do I need a web hosting account to run my main website? - Yes, you will need a website hosting account to host your main website. If you have our Gold or Elite turnkey reseller plans, they already come with a web hosting account that you can use for free. If you have a web hosting account elsewhere, you may also use it for your main website.
How can I find direct links for products in my store? - Once you have your storefront setup, go to Store > Browse All and hover your cursor over the "Order Now" button, you should then see the direct link for the product. You can also right-click the order button and "Copy Link Address" to copy it.
Do you offer a free theme for my Main Website? - If you have a web hosting account with us, you can get a free website hosting company theme provided by our Website Builder, Sitepad.
Do I need a Main Website? - Using a main website is completely optional, but highly recommended if you plan on leveraging SEO and product advertisement through your website.